This Excel tutorial explains how to create a currency converter template to convert one currency to another currency.
Excel currency converter template
In my previous post, I have demonstrated how to get currency exchange rate using VBA custom function and get the exchange rate via website. However I didn't make a convenient currency converter template to convert one currency to many different currencies or convert many different currencies to a single currency. In this tutorial, I will show you a simple Excel currency converter template and how you can maintain it by yourself.
To begin, click here to download my currency converter template.
Maintain exchange rate in currency converter template

There are two worksheets in my template workbook, select worksheet config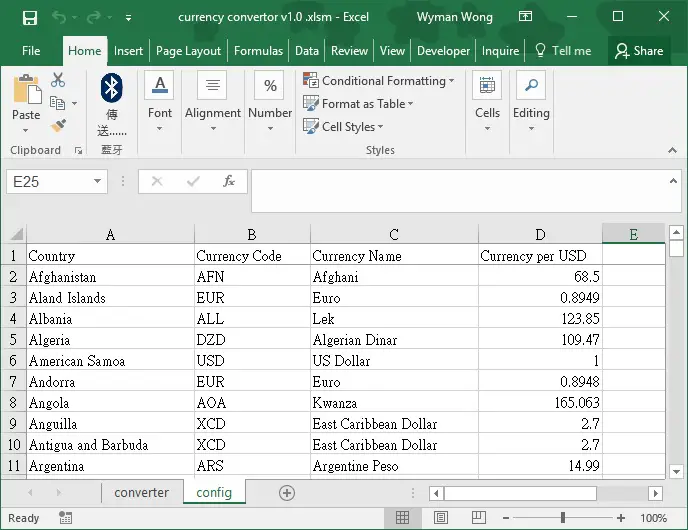 The purpose of this worksheet is to configure how much you get for for $1 US dollar for each currency. The exchange rate of this table is updated as of 2016 Aug 4th. You can either manually maintain this table or you can get the latest exchange rate from Yahoo Finance.
To update exchange rate from Yahoo Finance, press ALT+F11 > Tools > References > enable "Microsoft WinHTTP Services".
Select the converter worksheet, click on the button in Cell B1 to get the latest exchange rate from Yahoo Finance, the exchange rate will be updated in column D of  config worksheet, also the conversion amount in converter worksheet will gets refreshed accordingly.
If the button doesn't work, then probably your network has blocked the yahoo connection.
Entering the data

Input the data in blue cells and you will get the data populated in gray cells.  My design is to select country to populate the currency code, if you don't like it, you can delete the formula in column D and I, and then manually type the currency code, as all calculation are based on column D and I, but not the country name.